Services
TRAVEL SERVICES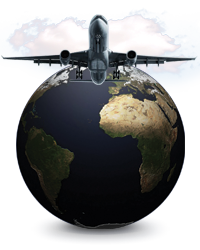 Airline tickets, hotel reservations, car rentals, planning and implementation of corporate expeditions, participation in conferences and exhibitions in Greece and abroad, incentive trips and any other travel service in the tourism industry!
It is a matter of corporate culture; we never act as mediators for booking pleasure trips organized by other agencies, we do not perform bookings in charter companies and we only cooperate with AVIS & HERTZ for car rentals.
INCENTIVE TRIPS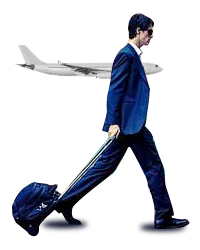 Having successfully organized dozens of corporate expeditions, we undertake to carry out every team expedition offering numerous alternatives to choose from, either for the participation in conferences and exhibitions or for an incentive/reward trip for your executives or clients. Our experience is the main tool we use to prepare and budget such a trip, whose success depends greatly on clear understanding.
What does exactly one expect to gain from an incentive trip? 
To please customers? To gain customers? For promotion purposes?
Should they choose a lower budget alternative just to promote it? Or should they do it to please the participants? Or both?
Should they do it at low cost, even if this means it may not be something remarkable?
Should they do it even if it is shortly forgotten or should they be able to capitalize on it for a long time?
Can companies decide on carrying out team travels without first being asked what the desired purpose of such travels is?
Where we stand, every trip is unique in character. If you ask us, the customer should be fully aware of the services we provide in detail and what their cost is, not in the form of a "packaged" offer but in detail. We do not offer "packages" but services and we feel that only with a detailed cost breakdown can a corporate expedition be planned appropriately and the customer know what they are paying for exactly.
We address modern enterprises and professionals, and we put in a lot of hard work not only to realize a team travel but even more so to budget it. For us, every participant in a team travel is as important as an individual traveler. The success or failure of a team travel depends on several factors which customers are justifiably unaware of, and here is where we come in with our experience mainly and our knowledge to protect them.
We firmly believe that the lower cost of a team travel should be the result of sound planning and correct choice of services, and not an outcome of downgrading such services.
There have been times we refused to realize a trip when we deemed that what we had been asked for went against our philosophy.
After all, next to our customer's we also put our own signature.
COST REDUCTION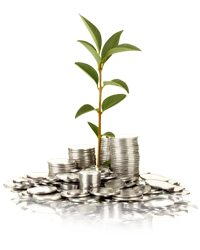 More often than not, hundreds of businessmen and enterprises lose money because of wrong choices, especially in the airfare market which is governed by many-paged regulations per fare and where fares change almost every five minutes. In many cases, choosing a more expensive airfare by €10.00 may save the customer from fines and cancellation penalties ten times as high. Our job – which we know and do well – is to monitor and take advantage of constant changes in airfare prices not only in Economy but also in premium ticket classes. We offer advice on making correct choices, we monitor and of course foresee probable changes or cancellations, and we protect our customers from pertinent surcharges. Our office infrastructure and our extensive negotiation power serve to the benefit of our clients ensuring the provision of cost-effective services and the comprehensive utilization of offers that arise daily. One of the most critical aspects of our job is to protect our clients from being misled by hundreds of often deceptive offers and thus making wrong choices and unnecessary expenses.
TIME MANAGEMENT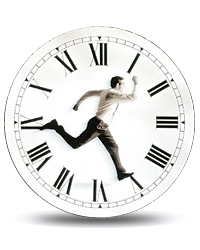 Working hours are lost while searching online, struggling to choose amongst innumerable offers and misleading advertisements, while on the phone trying to handle cancellations, fines, wrong invoices, inconvenient flight and accommodation choices, deadlines expiring... All this can trouble your staff or yourselves on a daily basis while it is simply our job to avoid. We create sound foundations for cooperation and understanding, we utilize our entire technical infrastructure and we recommend solutions that suit every occasion with honesty and feeling of responsibility. We monitor our clients' deadlines, we undertake to remind them and notify them for the most appropriate and timely choices. Our clients and their executives enjoy the benefits of our professionalism and care while securing more productive and creative time for themselves.
PREDICTIONS - PLANNING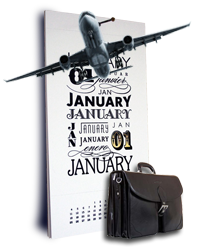 Airline carriers and hotels pester not only our customers but the wider public as well with hundreds of offers urging them to book services months in advance which however entail great risks, including fines in case of cancellations and changes. Thus, how can today's businessmen safely calculate the cost and plan a successful business expedition without deviating from their initial budget? We possess the knowledge and the experience to help our customers plan well in advance with safety and no unpleasant surprises. We know when it is peak season and costs multiply because of full capacity and lack of competition, we foresee price reductions in airfare, we offer promptly the most cost-effective solutions in case of cancellations and changes informing our customers of any future costs that could possibly determine the undertaking of a project or partnership. With our help, you can plan with safety and calculate your expenses without surprises!